Mountain Winery Information
You'll find here everything you need to know about visiting The Mountain Winery. The Mountain Winery was founded by Paul Masson, a California wine industry pioneer, in 1901. Today, the winery is proud host to a famous series of summer concerts. With its ivy-covered stone structure and old-world feel, the Mountain Winery provides a uniquely intimate experience and a highly dramatic setting for performers.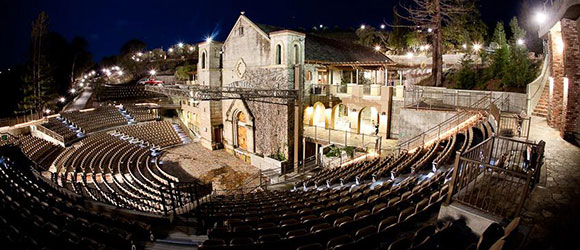 About The Mountain Winery
The Mountain Winery is a small select concert venue in Saratoga, CA, previously called the Paul Masson Mountain Winery. Founded by the famous vintner in 1905, the winery only acquired its concert facilities in 1958, when the amphitheater was built.
A concert program runs throughout the summer, from mid-May to October. The Mountain Winery averages 70 concerts a year during this season. All sorts of other events take place throughout the year, such as weddings, social mixers, corporate meetings, retreats and special events.
The Mountain Winery is listed on the U.S. National Register of Historic Places and is also a California Historical Landmark. It's been nominated five times by Pollstar magazine for the country's best small outdoor concert venue.
Location
The Mountain Winery is situated near Saratoga Heights, in the Santa Cruz Mountains, CA. It's about 15 miles west of San Jose, and around 50 miles south of San Francisco. When it was first established, the winery was entirely surrounded by mountains and woodland. Now it's right on the edge of Silicon Valley and the urban environs of San Jose.
History
The Mountain Winery was established by French vintner, Paul Masson, in 1905. In partnership with Charles Lefranc, they successfully grafted old Californian vine stock with imported French strains. Masson fine wines became famous in San Francisco and their champagne won awards – in Paris!
Although the first "Vineyard in the Sky" winery was demolished by the 1905 San Francisco earthquake, by 1907 Masson had built a new one that he called The Chateau. It was distinguished by a 12th Century Spanish portal that had originally stood in San Jose, in the old St. Patrick's Cathedral.
Following Prohibition, and even after its repeal in 1933, wine-making was no longer profitable. Masson sold the winery to Martin Ray in 1936, although Ray preserved the Masson name. Soon after, it was sold on to a succession of owners and no wine was made for 50 years. During this time, the amphitheater was a popular venue for chess tournaments. However, wine-making resumed in the early 21 st century, and the whole facility was renovated in 2009.
What Makes The Mountain Winery Special
The concert bowl was constructed in 1958, and launched the winery's Concert Summer Series. It's a great attraction for local concert-goers, and many world-class performers have enjoyed playing here. Such great names as Diana Ross, Ray Charles, Ella Fitzgerald, Tony Bennett and Joan Bayez have trodden The Mountain Winery's boards.
The amazing array of musical talent combined with the breathtaking scenery make this a great venue. Seeing the biggest stars on the planet play in such a small environment is a consistently crowd-pleasing combination. With a capacity of 2,500, The Mountain Winery offers an up-close-and personal opportunity to see your favorite performers. The Summer Concert Series has been going for over 60 years, and continues to draw crowds.
Who Owns The Mountain Winery?
The winery is currently owned by a group of entrepreneurs and business people. It's managed by AEG, and the Concert Series is produced by them in partnership with Prescient Entertainment.